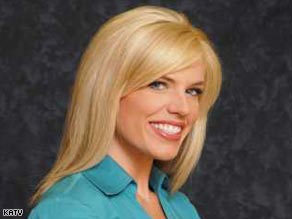 Folks, I've got some sad news to report tonight -- according to this story from CNN, 26-year-old Anne Pressly died on Saturday.

Pressly was an anchor for KATV, an ABC affiliate in Little Rock. She was attacked on Monday during an apparent burglary in her home, which is in the upscale Heights area in Little Rock. She sustained the injuries that led to her death during that attack.

This news is depressing, to say the least. I'm a PR guy and, as such, had met Pressly.

She was a genuinely nice person and an absolute professional. Her death is more evidence that Little Rock is going to the dogs. If you're not safe in the Heights in Little Rock, where are you safe? This whole affair is absolutely pitiful and depressing -- it underlines what a cesspool our capitol city has become.

I'm glad I live in Benton and wish that Pressly had chosen to live in nearby Benton, Bryant, Conway, Lonoke -- anywhere but Little Rock -- and had commuted to work every morning. They've got a crime problem in Little Rock that's growing more destructive by the day. They need to get it under control before everyone with a lick of sense moves out of there.